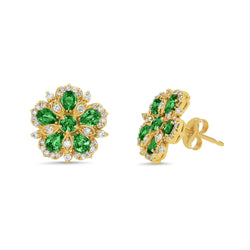 Emerald & Diamond Small Flower Earrings
Declare your love of beauty with these Emerald and Diamond Small Flower Earrings! Their gorgeous design with diamonds and emeralds will sparkle with every move, adding a touch of elegance to any ensemble. Crafted with only the finest materials and expertly set, these earrings will make you glow with style. Treat yourself to endless admiration!
As a part of the Jasmine Bloom collection, they are inspired by the sweet memories Tanya has of growing up smelling the aromatic jasmines along the short walk from her home to the Caspian Sea and the flower's symbolic message of blooming into one's true self.
18K Gold
White Diamonds approx. 0.65 total carat weight, Emeralds approx. 2.50 total carat weight
Push Backs

Handcrafted in New York
Lead time Approx. 2-3 weeks
Style #: EJB15-FLWR-EM