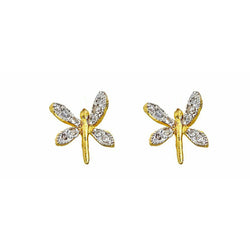 Tanya Farah
Diamond Dragonfly 'Change is Good' Studs
Be a trendsetter with these "Change is Good" Diamond Dragonfly studs. Crafted with stunning diamonds and gold, these little beauties will give you wings to take your look to the next level. So spread your aesthetic and flit away in a sparkly style!
Dragonflies symbolize change and our ability to overcome times of hardship. Many believe that dragonflies are messengers from spirit guides or good omens of positive change. They remind us to take time to reconnect with our authentic selves – our strength, courage, and happiness – as we journey through life.

14K Gold.
Approx. 0.20 total carat weight.
Push backs.
Handcrafted in New York.
Lead time Approx. 2-3 weeks
Style #: EMI-MDFLY01