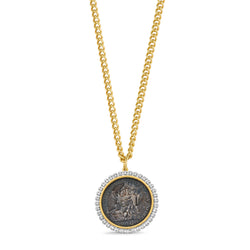 Vintage Suffragette Coin Diamond Enhancer
The One of a Kind Vintage Suffragette Coin set in a Diamond Arabesque Bezel with a Diamond Bale uniquely juxtaposes luxurious diamonds and an antique British Victorian coin, blackened and worn down with age. "VOTES FOR WOMEN" is carved into the surface like a secret and urgent message to be passed under men's noses when paying for cleaning supplies and sandwich ingredients.
It was only a little over a hundred years ago when women finally got the right in the U.S. to vote against injustices and inequalities. Our "VOTE FOR WOMEN" coins remind everyone that the struggle for human rights is a never ending pursuit, and as women gain our fair share of responsibilities and rights in society, we will never forget the countless people before us who paved the road forward.
One of a Kind
18K Gold
Approx. 1.10 Total Carat Weight
Handcrafted in New York
Style #: