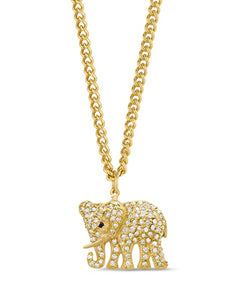 Diamond Elephant Necklace
Presenting a sparkling statement of luxury and elegance, this exquisite Diamond Elephant Necklace is crafted with 18K gold and adorned with sumptuous pave-set diamonds. This statement piece stands out with its eye-catching thick gold chain and fine detail to the elephant. Boasting an exclusive and timeless design, this necklace is sure to make a luxurious addition to your jewelry collection.

The Elephant symbolizes good luck, wisdom, protection and fertility.
18K Gold.
Approx. 1.10 total carat weight.
16" curbed cuban chain
Handcrafted in New York.
Lead time Approx. 2-3 weeks
Style #: