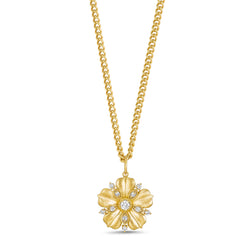 Diamond Large Flower Necklace
This eye-catching Diamond Large Flower Necklace is perfect for any occasion. Crafted with the finest diamonds nestled between gold petals, it is sure to dazzle in any light and make an impact. Its unique flower design is modern and elegant, bringing a bold statement to any outfit.
As a part of the Jasmine Bloom collection, it is inspired by the sweet memories Tanya has of growing up smelling the aromatic jasmines along the short walk from her home to the Caspian Sea and the flower's symbolic message of blooming into one's true self.
18K Gold
Approx. 0.50 Total Carat Weight
16" 
Handcrafted in New York
Style #: