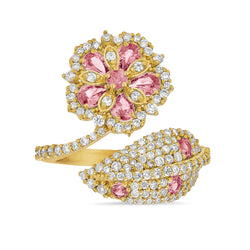 Pink Sapphire Flower & Diamond Leaf Wrap Ring
Make an elegant statement with this stunning wrap ring. The delicate, flower design, crafted with pink sapphires, is perfectly balanced with the diamond pave leaf, giving the piece an air of effortless sophistication. Make this exquisite ring your wardrobe accessory of choice!
As a part of the Jasmine Bloom collection, it is inspired by the sweet memories Tanya has of growing up smelling the aromatic jasmines along the short walk from her home to the Caspian Sea and the flower's symbolic message of blooming into one's true self.
18K Gold
White Diamonds Approx. 1.20 Total Carat Weight
Pink Sapphires Approx. 1.05 Total Carat Weight
Size 6.5
Handcrafted in New York
Style #: